Advancing Enzymes Production: Expanding Horizons with Fermenters and Bioreactors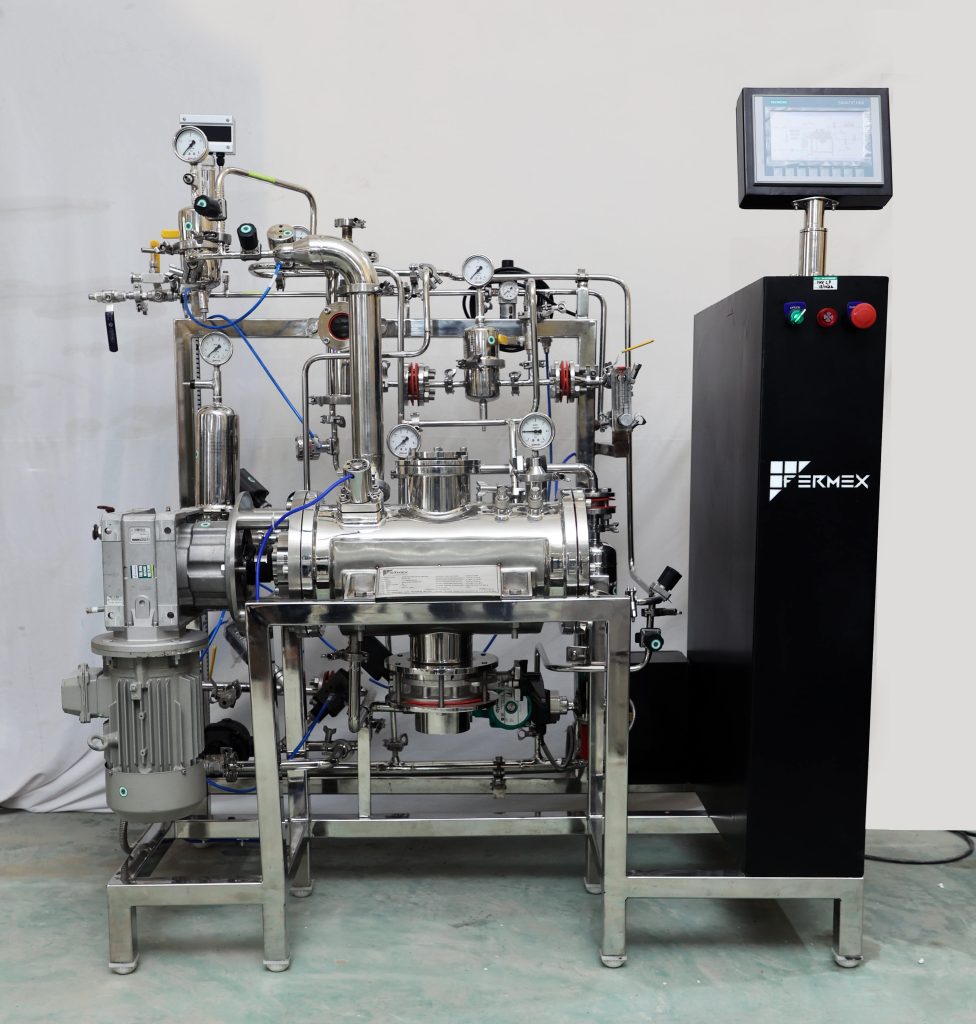 Use Fermenters in Production of Enzymes.
Fermex Solutions LLP manufactures fermenters that play pivotal role in the production of enzymes. In this process, selected microorganisms are cultured in a controlled environment using fermenters. The microorganisms are provided with a nutrient-rich medium to promote their growth and enzyme production.
The fermenters provide precise control over parameters such as temperature, pH, and oxygen levels, ensuring optimal conditions for enzyme synthesis. As the microorganisms multiply, they secrete the desired enzymes into the medium. After fermentation, the enzyme-containing broth is harvested and subjected to downstream processing for purification and concentration.
Fermenters enable scalable and efficient enzyme production, offering a sustainable and cost-effective alternative to traditional chemical synthesis methods.
Key Stages involved in Process of making Enzymes
Strain Selection: Specific microorganisms or genetically modified organisms (GMOs) are selected based on their ability to produce the desired enzyme efficiently. Factors such as enzyme activity, yield, and stability are considered during strain selection.
Inoculum Preparation: A small quantity of the selected microorganism is cultured in a growth medium to create an inoculum. This serves as a starting point for the main fermentation process and ensures the presence of active enzyme-producing cells.
Fermentation: The inoculum is transferred to a larger fermentation vessel, such as a fermenter, containing a nutrient-rich medium. The fermentation vessel provides a controlled environment with optimal conditions for the growth and reproduction of the microorganisms. During fermentation, the microorganisms produce and secrete the desired enzyme into the medium.
Harvesting: Once the fermentation process is complete, the culture broth containing the enzyme is harvested from the fermenter. The broth may undergo separation techniques such as filtration or centrifugation to remove solid biomass and other impurities.
Purification: The harvested enzyme undergoes a series of purification steps to isolate and purify the enzyme from other cellular components and contaminants. Techniques such as chromatography, filtration, and precipitation are used to separate and purify the enzyme.
Concentration and Formulation: The purified enzyme is concentrated to increase its activity and reduce its volume. It may then undergo formulation processes to stabilize the enzyme and prepare it for storage and use. Formulation can involve the addition of stabilizing agents, buffers, or preservatives.
Quality Control: Throughout the entire process, rigorous quality control measures are implemented to ensure the enzyme's purity, activity, and stability. This involves testing for enzyme activity, protein concentration, impurities, and other specifications to meet quality standards.
Packaging and Distribution: The final purified enzyme is packaged into suitable containers, such as vials or bottles, and labelled with relevant information. It is then distributed to customers or further processed for specific applications.
Fermex Solutions LLP Manufactures Fermenters that can be used for these Production
Benefits of Fermenters in the Production of Enzymes:
Scalability:Fermenters enable the production of enzymes on a large scale, meeting the growing demand for enzymes in various industries.
Controlled Environment: Fermenters provide precise control over parameters such as temperature, pH, and oxygen levels, ensuring optimal conditions for enzyme production and higher yields.
Cost-Efficiency: Fermenters optimize resource utilization and scale-up production, resulting in cost-effective enzyme manufacturing.
Consistency: Fermenters minimize batch-to-batch variations, ensuring consistent enzyme quality and activity.
Time Efficiency: Fermenters accelerate enzyme production through optimized fermentation conditions, reducing the overall production timeline.
Sustainability: Fermentation-based enzyme production reduces reliance on chemical synthesis methods, promoting environmentally friendly manufacturing practices.
Versatility:Fermenters can be adapted to produce a wide range of enzymes, offering flexibility in meeting diverse industry needs.
Quality Control: Fermenters allow for better quality control through precise monitoring and adjustment of parameters, ensuring consistent enzyme activity and purity.
Optimization and Flexibility: Fermenters provide a platform for process optimization, enabling manufacturers to fine-tune conditions for maximum enzyme yield, quality, and stability.