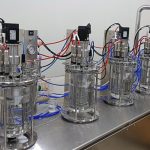 Glass Autoclavable Laboratory Fermenters & Bioreactors
Model No : Fermex BioFMA
Capacity : 1L to 7L
Industry : Pharmaceutical & Biotech Industry, University, Research Institutes
---
Fermex has earned a reputation of being one of the Best Laboratory Fermenter Manufacturer in India. Fermex Autoclavable Fermenters & Bioreactors are ideal tools for researchers who start fermentation studies and for those applications where small or medium volumes are required. Fermex BioFMA series fermenters and bioreactors are compact in design, to save space in the laboratory with exceptional performance. Fermex Autoclavable fermenters and bioreactors are made up of high quality materials like Borosilicate glass and SS-316L. BioFMA Series provides sterile conditions for culture growth. Our control system and SCADA software complies to FDA 21 CFR Part 11. Customized controls are available (Basic, Semi, and Fully Automatic). Due to the modular design, & smaller footprint the reactors can be used for a variety of applications, including microbial and yeast fermentation, cell cultures, etc.
Technical Specifications:
| | |
| --- | --- |
| Type: | Autoclavable |
| Design Code: | ASME BPE-2019 |
| Temperature: | 0 to 140 °C |
| pH: | 2 to 14 |
| DO2: | 0-100% |
| MOC: | Borosilicate Glass & SS 316L |
| Automation Grade: | Manual, Semi-Automatic & Fully Automatic |
| Surface Finish: | Inner surface 420 grit mirror-finished Ra 0.25-0.5μm and External 180 grit matt finish |
Features:
Top driven agitator (single mechanical seal or magnetic drive) with Rushton Turbine impellers.
Automated control of process parameters like Aeration, Temperature, Foaming, Pressure, pH, DO, etc. Automatic aeration control through MFC for multiple gases also.
Feed addition through precise flow control with peristaltic pumps for accuracy of feeding.
PLC-based panels are provided with a color touch screen HMI to provide the operator with monitoring and control of various parameters.
All wet parts are made of SS316 and borosilicate glass and non-wet parts are made of SS304.
Mobile App/web server is provided for data monitoring purposes.
Alarms SMS alert on mobile is provided.
Reserve data logging with SCADA software is also provided so that no important data of the batch is lost out.
Controls:
Automatic Temperature Control
Automatic pH Control
Automatic Foaming Control
Automatic Nutrient Feeding Control
Automatic Agitation Control
Aeration Control through rotameter/MFC
Automatic Redox Monitoring & Control
Automatic OD/Turbidity Measurement
Automatic DO Control (Cascade Control)
Automatic Back Pressure Monitoring
Mobile Application
SMS Alert Facility
Control Panel – Independent / Combined
Supervisory Control And Data Acquisition (SCADA)